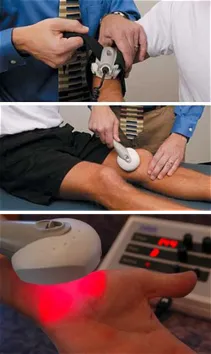 Laser therapy increases serotonin levels which allow the body to heal itself. It is one of the few physical therapy modalities that is non-thermal and noninvasive. Laser therapy is one of the most effective healing therapies in the medical community today. Completed in ten to twelve sessions, it's not only efficacious in reducing treatment times, it is cost effective as well.
Also known as Low Level Laser Therapy (LLLT) it uses a handheld, noninvasive, light-emitting gadolinium-arsenide diode which is used over different areas of the body. It provides an unmatched advantage in the treatment of conditions such as:
Athletic Injuries
Lower Back Pain
Knee and Foot Pain
Shoulder Injury
Carpal Tunnel Syndrome
Arthritis, Muscle Spasm
Relief of Muscle and Joint Pain
Relief of Stiffness, the Promotion of Muscle Relaxation, and Cell Restoration
Wound Management, Including Skin Ulcers, Pressure Sores and Burns
Soft Tissue Injuries, Including Sprains and Strains, Tendonitis and Hematomas
Joint Disorders and Conditions, Including Arthritis, and Tenosynovitis
Chronic pain, including Trigeminal Neuralgia and Chronic Neck and Back pain
October 31 third degree burn from volitilized popcorn oil. First Laser treatment here was November 7th.
November 14th after four laser treatments of 6 minutes duration each.
November 26th. 10 treatments of 6 minutes duration each over 6 total visits.
MD said "it would take six weeks to heal and posibly require skin grafts".